Biography of Emma Lou Lais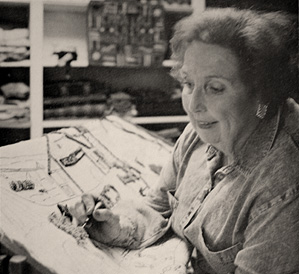 My Dear Friends,
I was first introduced to the art of primitive rug hooking by my mother Madoline Welch back in the late 1930's. After a singing career with big bands like Benny Goodman and Ziggy Elman and raising a family in California I returned to Kansas City in 1980. This is when I fell in love with primitive hooked rugs. My teacher at that time, Margaret Masters encouraged me to follow my heart and specialize in designing and teaching the art of primitive rug hooking. I have been doing that ever since.
I co-authored with Barbara Carroll two books, Antique Colours for Primitive Rugs and American Primitive Hooked Rugs. I have taught primitive rug hooking at workshops from coast to coast. I currently conduct workshops at Black Sheep Wool Designs in Liberty, Missouri and at other rug workshops around the country for those interested in learning more about primitive rug hooking.
In addition, I have designed approximately 125 patterns. These are available on either monks or linen. All of our patterns are hand printed on the grain of the highest quality material and tend to be one of a kind since they are all hand drawn. You can see all of them in the Patterns section of our website. We will be adding new patterns from time to time.
I hope that you will enjoy our new website. Feel free to browse the Patterns and to order online. If you have any questions, please feel free to call us at the numbers listed in the Contact section of the website.
Happy Hooking!